Running a successful eCommerce in 2022 is not an easy task.
Sometimes it can feel like you're bogged down doing the repetitive little things, you have no time left to expand your business ideas and take it to greater heights. It's 2022, let automation do the legwork for you while you bring your business' potential to its maximum.
E-commerce automation is tool you need to compete in today's market.
It is the use of technology that helps you perform repetitive tasks. And today, it can deal with even some complex cases such as automated incident response.
Marketing automation refers to the utilisation of software and technologies for automating marketing tasks. This helps the marketers to attract leads, nurture them further down the funnel, analyse lead behaviour, and campaign performance.
For instance, with automated email workflow automation, you can engage with your customers by sending welcome emails to them.
Why Your Business Needs Email Automation
eCommerce automation saves you alot of time
Automating repetitive tasks can free up time you need to spend on other business expansion tasks. Automating them also gives you the ability to track with more accurate precision.
These tasks include data entry, customer emails, social media, and stock taking, re-targeting and more. The more you can automate, the better results you can get based on analytics and hence, more accurate targeting.
With e-commerce automation, you can schedule sales promotions to target the right people at the right time according to set metrics, you can automate new product releases according to what is most popular, remove discontinued products that are less popular, adjust prices, apply discounts, track purchases and provide rewards, all with the right data in your hands.
But it's more than getting the actual tasks done.
Whatever tasks you can do, eCommerce automation can do them better, saving you from having to go back and correct errors. When data is all managed intrinsically on platforms, the chances of human error are lessened, you can do a monthly reporting and audit to improve your marketing strategy. Isn't that a win-win all around?
Data Management
Follow-ups, inventory updates, shipment updates, are administrative tasks that can have no room for error, don't you wish these tasks can be automated?
Real-time automation ensures that your data is synchronized and sent in real-time to improve your customer's experience.
Any business operation consists of high degree of sensitive data transmission, and in the modern day, accuracy is not to be compromised. If your transaction's data flows are currently documented endlessly with stacks of audit trails and logs, it's time for them to be automated.

Ecommerce automation solutions allow you to manually resend, recheck, or repeat tasks. You can maintain the quality, and security of your data even with a change of staff, business direction or even platform. Ecommerce operations can use automation for a host of inventory, shipping, and product-related workflows.
Poor data quality may cost organizations anywhere between $9.7 million and $14.2 million per year
–Gartner.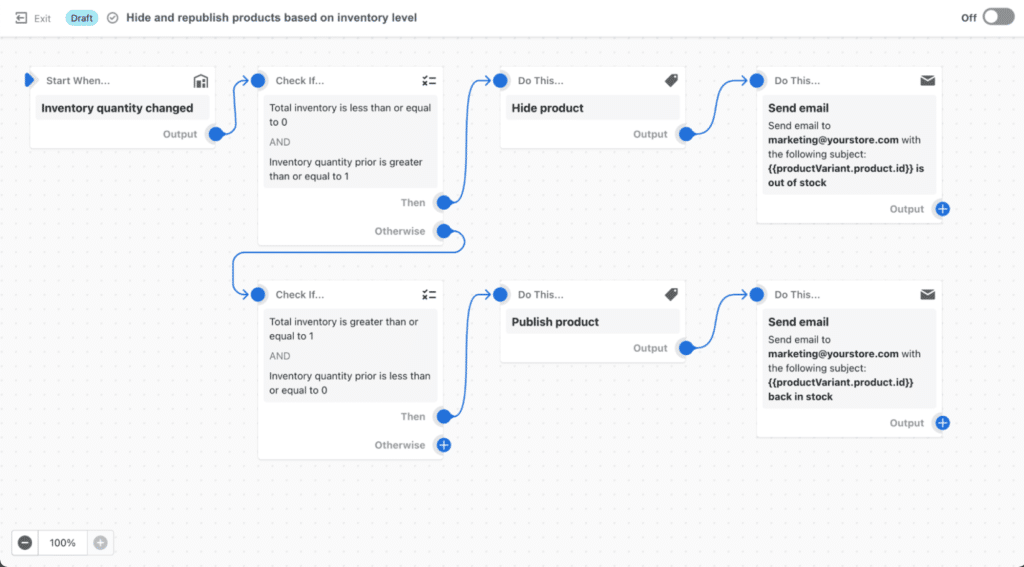 Improved customer experience
Customer satisfaction is more important than ever. Customers of today are expecting faster, more personalised customer service that responds to the most pressing issues and concerns in a timely manner. You snooze, you lose to other competitors before you can even say, what?
Without access to eCommerce CRM data, businesses may not be able to deliver this level of service.
Needless to say, happy customers are more likely to be repeat customers.
E-commerce automation can help you keep customers happy, and turn them into repeat customers, even as you scale to reach a greater audience.
Yes, it's easy to stay engaged with customers when you're a small startup, but what happens when your business sales up and you start tohave hundreds, thousands, and more? You just can't be there for all of them.
As you automate things, you can improve the customer experience at your shop. Customers can find what they are looking for more quickly and purchase what they want more easily, more organised and smoothly, and that's what sets businesses apart from each other today.
Lead Generation
Once someone purchases your product or service, they become an entirely different type of lead. An automation funnel will help you mark that and you can now target this lead in a totally different, more personalised way. Getting qualified leads are not easy, you'd want to work as hard as possible to retain a converted customers, and automation funnels do that best!

By taking those purchasers and automatically turning them into qualified leads, you can easily nurture and maintain that relationship without manually having to compile data, you now can engage them with different types of email automation flows.
Automation trends in 2022 for eCommerce
Voice search 
0% people use voice search to buy something every month (PwC)
64% of 16-64 year-old demographic are using voice-enabled devices at least once per day
30% web browsing sessions are screenless (Garner)
Shoppers today welcome the idea of searching for what they want with the voice because it's just easier and more time-saving. With voice search apps and functions now on a rising trend, your eCommerce store has to keep up in order to remain competitive and fast.
For eCommerce, brand visibility is less apparent. A product with high popularity will build its own market separately from its brand. Competition is stiff, and it's a price war. When people use voice search to get the answer to their query, the most popular and searchable brands are going to reach the consumers faster.
AI-powered chatbots
Chatbots are becoming smarter day by day thanks to Artificial Intelligence (AI). Although they have existed for the last few years, they are improved and become more powerful. According to Statista, the chatbot market will value about $1.25 billion in 2025, a significant increase from the previous years ($190.8 million in 2016).
A Chatbot will ensure that on all your current communication channels, answers are systematic, consistent and satisfactory.
Automation for purchases and sales 
Many businesses today have automated their purchases and sales procedures to standardise them and save time. During sales processes, businesses track their engaged customers, sync them to an email list and gather feedback after each purchase automatically. You can also handle bad reviews much more efficiently, by attaching the customer to a service review staff.
Tagging and segmenting based on their characteristics or location is another way businesses are automating their eCommerce.
Identify and target high-value customers. Create audience segments based on digital interaction, context, phase in the customer's journey, third party data, and more.
Email marketing campaigns
We've all received hundreds of emails from different companies. Can you remember a few that caught your attention? Automation allows you to personalise your eCommerce emails so that they actually capture the attention of your recipients because your subject and content is specially curated for them.
Auto-scheduling social posts
Welcome emails
Birthday and anniversary emails
Engagement emails
Newsletters
Back in order emails
Out of stock emails
Automated inventory mangement
Automating warehouse processes helps businesses ensure their stock is updated in real-time and reduces inventory costs. Proper tracking and management of stock can make all the difference. You don't have to panic when stock level falls below desired, toggle between stacks of stock sheets and emails. Neither do you have to worry about overstocking and cramping the warehouse space. Everything gets done within one management system, and automatically the next month.
reordering
goods delivery
inventory item fulfillment
inventory tracking
monitoring data 24/7
Omnichannel marketing
Omnichannel marketing engages all your channels to create one unified experience for your customers. They use both physical and digital channels. Provide your customers with a consistent, personalised experience by reaching them on eCommerce messaging channels, while improving your reach and conversions. 
Three examples of omnichannel marketing:
You retarget someone on Instagram with the abandoned product from the website.
You offer guests of your store a coupon with a discount for purchasing online.
A client gets a brand's printed brochure and scans a QR code to get free samples of your products.
As stated by Salesforce, 74% of consumers used multiple channels to start and complete a transaction. It also includes different gadgets. A person can be shopping online from several laptops or mobile devices, and the process will be seamless. 66% of users started and completed buying via multiple devices.
Conclusion
It's time to shake hands with the bots. Lets face it-Software, bots, and other technology can complete mundane tasks far more quickly and accurately than human. Your workers can spend their valuable time elsewhere. They can complete the tasks that demand human intelligence and attention.
Don't get lost in all the e-commerce automation tool options you see on line. Choose the process that needs attention first and will help you specific to your business. Then find the automation tool that seems most intuitive for you.