We live in an on-demand world where information is just some typing and clicks away. We expect to access information quickly and easily.
Chatbots are new and brands are trying to understand what the noise is all about.
We've all had the opportunity to experience chatbots while trying to book a restaurant, a flight or settle some financial matters through our personal banking platforms.
Giant companies in Singapore like Singapore Airlines, DBS, Prudential, Goldheart Jewelry etc have all developed and embarked on their own personal chatbot system.
Want to book a flight and edit its status after? Meet Kris.
Want to stay on top of your finance game? Meet digibank virtual assistant.
Want to know real time-information on where your bus is, how crowded it is and its arrival timings? Meet Bus Uncle. Chatbots provide 24/7 service and instant responses.
Does a business need a chatbot? Will it really give your business a boost and engage customers in a revolutionary way?
Chatbots are normally used for two major purposes: customer service and marketing or sales. These are the moments when your clients have to interface with a representative of your company. 42% of clients prefer live chat over email (23%) and social media (16%). What's more, customers have reported preferring web or mobile self-service to a phone call. This, of course, suggests that if you do not have live chat, it's worth considering.
-Swissbot, 2018
Let's find out how to make a decision on Chatbots. Should you invest in this technology or leave it for now and move forward.
In the Asia-Pacific, Singapore is probably the most advanced in terms of investing in chatbots, companies are more willing to experiment and like to explore emerging technologies. Customers here are also digitally savvy and have high expectations.
-Forrester's senior analyst, Wang Xiaofeng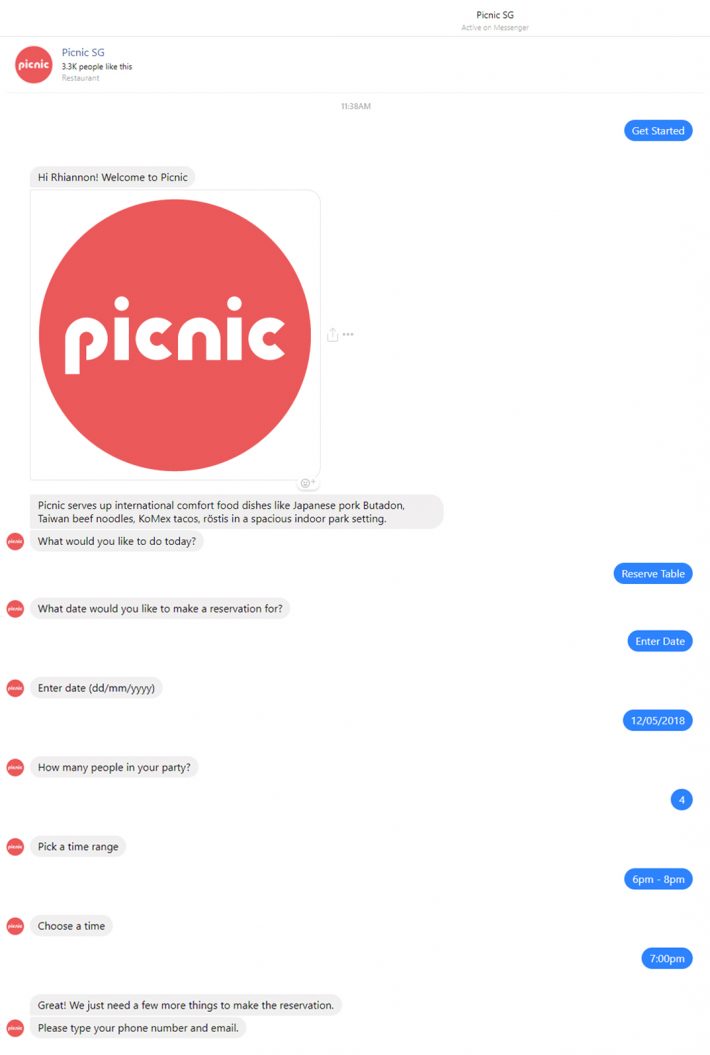 -Quisine
Is having a Chatbot necessary for my business?
1. You have to explore and research if your Chatbot can deliver value to your customers and users once they are using it.
Your Chatbot should be serving a purpose and adding value to your users' lives.
2. Do you have the time to configure a Chatbot strategy?
If you can identify uses for a Chatbot, great it'd probably effectively serve its purpose. But before committing to using one, make sure you have the time to think about an efficient strategy and analysis to make sure the chatbot is productive and effectively represents who you are as a company and brand. If you can't take the time to configure it initially and then optimize it in the future, you should abolish the thought of implementing one at the moment.
3. Does a Chatbot fit into your inbound system?
You should have figured out which roles your Chatbot can fit into your inbound marketing plan. By further testing and experimenting, you might discover that your Chatbot could fit a better than role. If you Chatbot is irrelevant in every step of your customer's journey and cannot be assigned a role in your inbound system, eg. as an Ad Destination, perhaps you need to delve deep into a solid marketing plan before acquiring a complementary digital marketing tool such as a Chatbot.
4. A Chatbot is a tool that can really be useful in every business' sales funnel.
It is a faultless virtual assistant that is designed to address a product or service's users' problems, especially those that are very repetitive customer queries. A Chatbot will ensure that on all your current communication channels, answers are systematic, consistent and satisfactory. This techonology works great for businesses who could put their customer service resources to better use, but doesn't necessarily mean one should compulsorily adopt.
5. Your bot representing your brand and company should feel like you, and reflect the attitude, values and tone you'd want to convey.
It is no doubt challenging to programme your bot to feel like a human-to-human interaction. This extra effort is tedious, but well worth it. Customers in this "texting" generation will appreciate a knowledgeable and entertaining Chatbot. Conversely, unnatural-sounding language may turn your customers away and end up counter productive in your efforts of trying to form a relationship with them. Ideally, your audience should not feel like they are speaking with a machine.
Conclusion
In the digital marketing world of today, there are many emerging technologies that are remarkable and hold the promise of taking your business to a new level. Some of these technology and tools will excel your business but some won't. Some will be befitting of other businesses while some will suit yours more. It does not necessarily mean that one should adopt the Chatbot technology, unless it serves your business well. You should consult an honest expert, who will help your experiment and conduct tests before concluding a decision to invest on it or not.
We hope this article fundamentally helps you peel the first layer of understanding the uses of a bot in a business. Different types of companies and business models use different channels and avenues to engage their customers, a Chatbot might be the best fit for your company. It is important to identify the definining charcteristics of your target channels and answer the question "is having a chatbot necessary for me"?
Roughly 25 % of customer service and support operations will use chatbots by the year 2020, according to research and advisory firm Gartner. Decide if it is profitable for your business to embark on a system, or you can contact our experts for a (free) thorough consultation here.