Consumers today demand personalised experiences from brands and utilising data is crucial to fulfilling that expectation and enhancing the overall consumer experience.
Retailers turn to their loyal customer base during tough times, seeking stability from consistent revenue. To sustain growth, they must offer personalised experiences to retain customers and attract new ones.
Customers expect companies to understand their needs (73%), but only a small fraction of CMOs think their companies are successful in personalisation (15%).
According to one consumer study, 71 percent of buyers expect companies to deliver personalized interactions, and 66 percent are frustrated when brands don't deliver on this expectation. What's more, the study notes, "Personalisation drives performance and better customer outcomes. Companies that grow faster drive 40 percent more of their revenue from personalisation than their slower-growing counterparts."
We've discussed how to create the best Customer Experience Strategy (ACX) in our previous blog post, in this article, we're going a step further to lockdown 3 key areas businesses can improve overall customer personalisation using data in specific.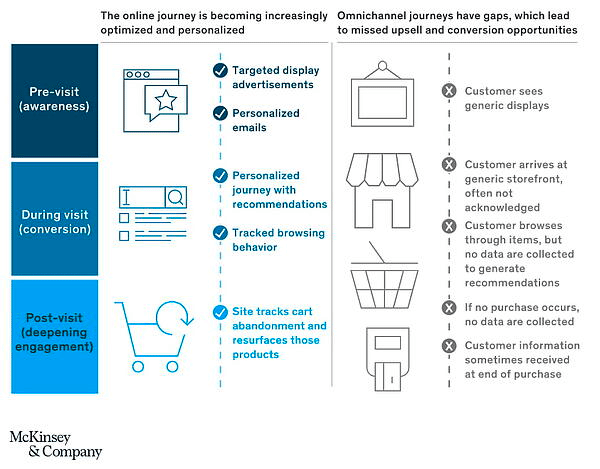 3 advice on how to level up personalisation to create better experiences for your customers
Use data to achieve intent-driven personalisation
Understanding users is crucial for effective marketing, regardless of technological advancements. You can achieve search personalisation by understanding what people engage with on your site.

What is search personalisation?
Personalized search is key to building a positive brand image, engaging customers, and promoting loyalty. Shoppers want relevant results, not generic content. Non-personalized search is becoming unacceptable and won't succeed in the market.
The personalisation of search results offers an opportunity to increase your visibility for really relevant searches.
Big data enables giants like Google and Amazon to personalize their services. They use information like user accounts, search history, product interactions, website activity, social media, and phone conversations to deliver highly personalised results.
Think you can't achieve true personalization without access to this type of data?
You're probably a little right, but don't be dismayed there are ways for you to still fight for your share of the pie.
To personalise your marketing, consider the questions you have about your target consumers and determine what data is needed to answer them. This may include consumer behavior on channels, audience demographics, or external factors like seasonal trends. This information will help your marketing team identify actionable insights and effective personalisation strategies.
Bring your best audience segmentation strategy to the table
Segmentation improves targeted marketing, generates sales strategies to boost conversions, and enables the creation of products that meet the needs of specific segments.
80% of surveyed individuals prefer to do business with brands that personalise their experience.
Segmenting the audience to send tailored marketing is essential. Most marketers create content for 3 segments, but only 4% use multiple data types and 42% do not segment.
Segmentation is more than just a static email list of your customers. It allows you to send relevant content to each group, which can increase engagement and sales.
In 2023, we not only need to up our segmentation strategy, but we also need to grasp what dynamic segmentation can do to improve the overall customer experience.
Dynamic segmentation uses real-time data to create changing groups of individuals that move in and out of segments based on defined criteria.
This allows for personalised marketing, unlike static lists.
Dynamic segmentation is more effective as it targets audience cohorts based on recent actions and preferences, avoiding generic messaging that can alienate customers.
For eg. you can target your users based on their:
Last-searched category
Location
Highest level completed
Preferred language
Number of loyalty points
Favorite product/ service
Creating a competitive advantage with predictive insights that you've gotten
Start improving the overall consumer experience with better product and service recommendations.
Firms that anticipate these shifts at the outset of their innovation process have an advantage, while others learn the hard way. The key is to leverage your business data to identify ways to maintain and strengthen your competitive advantage.
Netflix doesn't just sit on its data. They use it to inform every possible decision, from predicting what viewers want to watch next to even informing their content creation. The success rate for Netflix's original content is 93%, meaning recording-breaking successes like Stranger Things and Bridgerton were predicted to succeed before even hitting the screen.
What product recommendations can you make with your data?
What does this look like in real life?
Imagine, for example, that you run an F&B food product business with a "buy online, pick up in-store" option. As a consumer browses your online selection, you can optimise recommendations based on what products are in stock in your physical store, whether the consumer prefers a bigger course or just a snack, according to the time of the day or even the weather. In the morning, consumers' appetites are lighter and hot savory food will be craved on a cold, rainy day.