The holidays are nearing and after two bleak years of lockdowns consumers are ready to spend, brands and retailers should know that planning for these make-or-break holiday campaigns starts now.
Similar to 2020, this holiday season will not be alike pre-pandemic years. People will be eager to celebrate tradition in a big way with new and huge improvements n the pandemic situation this year, but we cannot deny that Covid-19 irreversibly changed customers' expectations, behaviour, and even channels.
Brands and retailers of all sizes will be challenged to capture new demand have to adapt to new ways of capturing old and new markets.
In the fourth quarter of 2020, retail searches grew at a rate over 3X higher than the same time the previous year, signifying a major shift to digital.
The path to purchase is also growing increasingly complex, as customers combine online and in-store shopping experiences in new ways.

(ThinkwithGoogle)
We've created a holiday marketing article to highlight marketing aspects that will make a difference to your sales during the holidays.
These are great tips that will help achieve business and marketing objectives.
It's time to leverage the holiday season to pump in more marketing effort and be sharp when adapting techniques in order to make the comeback we all have been waiting for.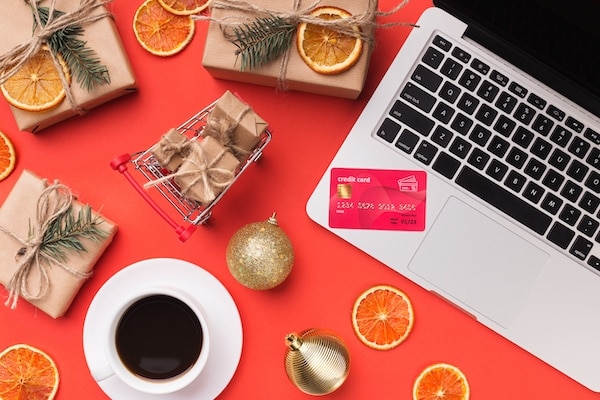 How Brands and Retailers Can Prepare for the 2021 Holiday Season
Launch a solid e-Commerce driven holiday marketing campaign
If you are a business owner and not optimising your e-Commerce game now, you will be losing out. Last year was a lesson in disrupted in-store, supply chain, and logistical uncertainties, giving retailers lessons to kick off this year's holiday efforts with online deals and promotions early and prepared.
It is good to also duly note that many of those transactions happened on mobile. Adobe found that over half of digital Christmas revenue in 2020 came from smartphones.
Expect to see more digital acceleration with another extended, e-Commerce driven holiday shopping season this year.
Pent-up demand from the COVID years gives a good chance for brands to make a comeback with their e-Commerce products and branding, it's a great time for brands to authentically start connecting with both loyal and new customers across digital and mobile channels now.
Reinvent and optimise your e-Commerce store, it will level your playing field with the bigger players if you do it right.
Holiday 2021 is primed to be a record-breaker for eCommerce—with sales forecasted to increase 11% over last year. However, this season also will be more competitive for merchants than in the past.
Offer holiday promotional incentives that your prospects value
Like any marketing venture, when it comes to developing holiday promotions, it's important to know and cater to what customers care most about.
Studies have found that lower product pricing is the top incentive customers look for when determining where to shop due to a difficult financial year, so developing some attractive deals that put you at prices below your top competitors, can help you win over more customers.
With the influx of online competitors giving promotional holiday deals, consumers will be spending a significant amount of time deliberating where they want to spend their money when it comes to purchasing gifts.
Meeting your prospects at the channels they will be at, and giving them value where they want will put you on top of your competitors.
If your business wants to pull potential and long-term shoppers back into your store, then you need to stay top-of-mind. A winning holiday marketing strategy keeping consumers dedicated and loyal to your brand focuses on authenticity and gratitude. Show shoppers how valuable they are to your business.
Run a month end long sale
Offer referral discounts
Provide loyal customer discounts
Partner with other businesses for complementary holiday specials to increase value
Offer free shipping for new customers
Offer personalisation beyond recommendations
To be personal is to be mindful, it shows that you know what matters to your customers and what they need.
Sophisticated holiday retail engagements create satisfied customers for the rest of the year. Today, the industry's savviest marketers are thinking outside the box to tailor every interaction with personalisation.
From Spotify to Netflix and Amazon, we're surrounded by personalisation every day.
Consumers have come to expect that same level of personalization from companies of all sizes.
Investing in personalisation efforts to build relationships and create better experiences can pay off with big rewards for brands. In a world where the vast majority of companies are focused on improving personalization, companies that don't prioritize creating a tailored experience run the risk of getting left behind.
More than 50% of consumers are willing to share information on products they like in order to get personalized discounts. – Retail TouchPoints
Using tactics such as artificial intelligence, machine learning, and predictive analytics, you can automate data-driven campaigns while building personalized messages that increase the likelihood of a sale.
Here are some examples of data-driven campaign ideas to test this holiday season that will take your personalisation to an entirely new level.
Segmentation
Lookalike ad leads
Product recommendations
Programmatic display advertising
Predictive content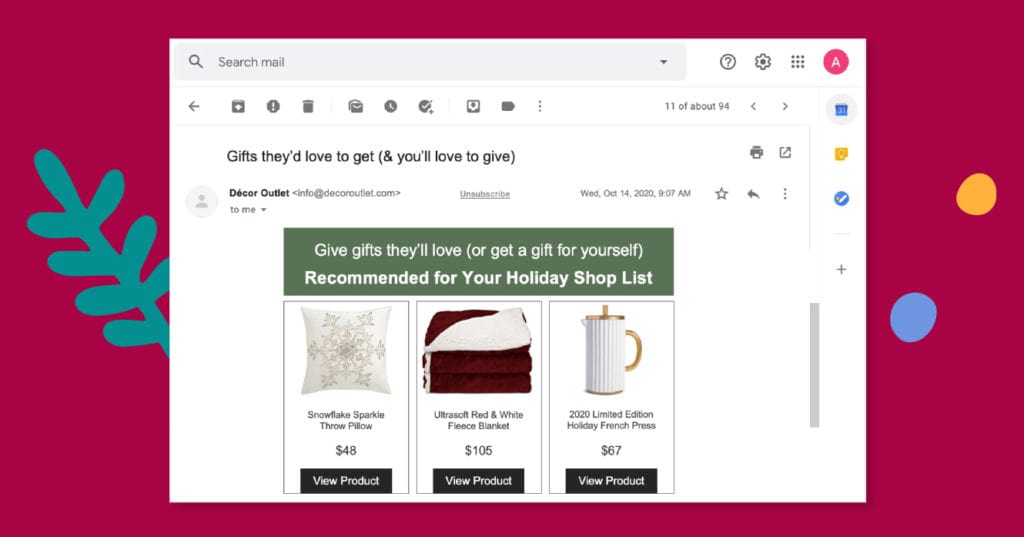 Embrace Email Marketing
Your ideal shopper doesn't have a lot of time to dedicate to phone calls, in-person encounters, or physical mail, however, from statistics we know that email marketing is very much effective in 2021, and your prospects are still constantly checking their email inbox.
Email marketing in the holiday season is a great opportunity to boost sales.
The efficiency and high ROI of email marketing keep on improving its reputation among holiday dealers. It is more important than ever to understand strategically how your email campaigns will stand out in the holiday messages season.
Shopify reported 24% of holiday sales during the 2018 holiday eCommerce season were driven via email marketing.
You can imagine the ever dependence on email marketing now that most shopping patterns have moved online.
The tricky thing is that tons of businesses send shoppers a variety of offers. Your email marketing message has to be on point and targeted to stand out.
This is also a fantastic time to gain email subscribers and rack up your mailing list.
Send out emails that highlight your promotions, sales, or seasonal product line, give incentive for subscribing to your business, and reap the benefits of having solid marketing retargeting list months after.
No matter the season, emails that get the best email open rates often include elements like:
An eye-catching subject line
A hierarchy of content (with the most important info at the top)
A mobile-friendly design
A strong call-to-action (CTA)
An interactive element
Launch festive holiday ads
This is pretty much a must.
Focus on creating ads that feature a holiday touch in your ad copy or ad itself.
You can extend this strategy to your content too. Or do a video, like Coca-Cola on YouTube.
Facebook and Instagram have data and advertising services for creating an effective holiday marketing plan. Follow the latest best practices to land you in a competitive space, test and optimise to ensure your holiday marketing ad campaigns reaches a success.
40% of those surveyed said they use Facebook to find deals and sales from businesses, so make sure they're seeing yours by targeting your audience with ads that promote your deals and specials.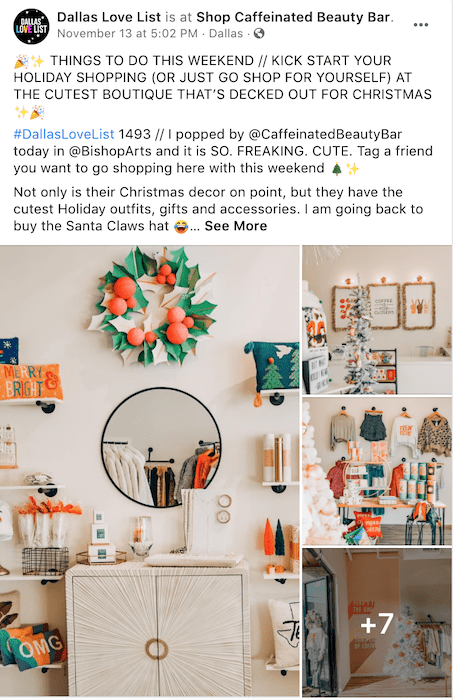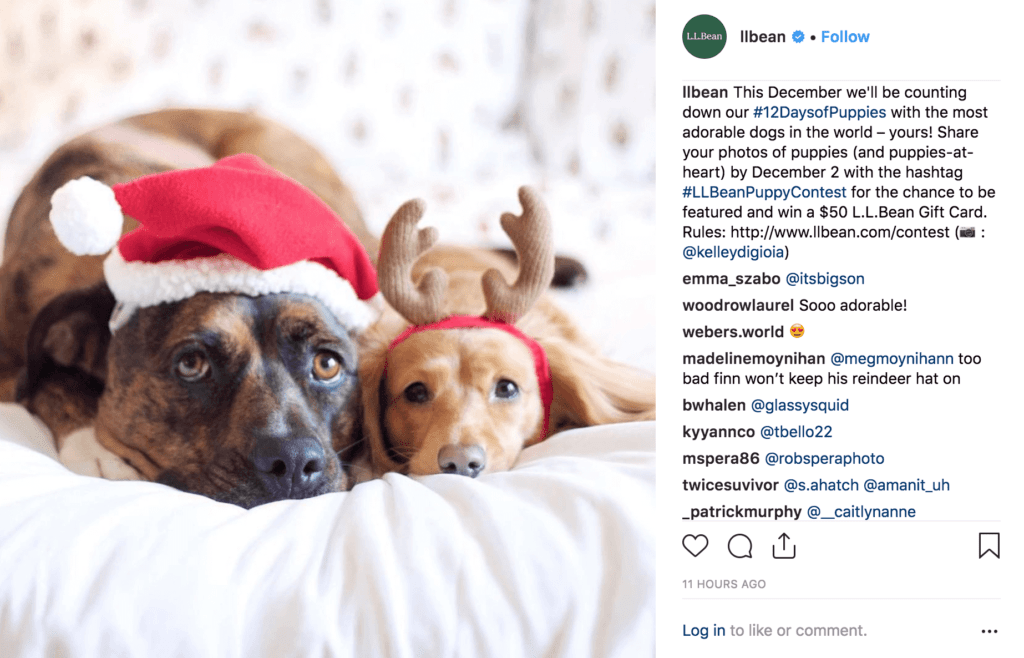 Use the festive season as opportunity to market your brand
During the holiday seasons, it's also essential for your company to promote its brand.
When you focus on sharing not only your products but also your brand, it can leave a lasting impression on shoppers and there's no better time to do it than the holiday season.
Use this chance to highlight your business' USP. Demonstrate what your company values but also what users can expect as a customer, stand out, differentiate.
Pay extra attention to how your business presents its brand and follow through. Some added effort into your branding during your holiday campaigns will pay off in months to come.
When it comes to successful branding, it's important to appeal to the emotions of your prospects. Ignite a mixture of emotions, from excitement to nostalgia.
A smart holiday branding strategy appeals to these emotions, which can encourage users to make your company a part of their holiday shopping.
Share inspirational messages on social media, be authentic, internet users these days are intelligent and can see through any insincerity.
For example, or provide a behind-the-scenes look at how your company celebrates the holidays and showcase any ways your company gives back to society for a good cause to gain credibility and support. Find ways to leave an impression on your brand name.