The 2021 South East Asia Internet Economy Report truly highlighted how digital consumption has evolved and increased multifold in the last year. Users post-pandemic are consuming four more digital services than they did before 2020.

Since the pandemic started, 60M new consumers were reportedly found and predicted to stay according to market research. 9 in 10 consumers who tried a new digital service in 2020 were also found continuing to use the service in 2021.
New behaviours that arose from the pandemic will have an enduring impact on society, and undoubtedly, on the future of brands.
1 in 3 believe they would not have survived COVID-19 without digital platforms, and while most have a positive view of digital platforms, profitability remains a top concern.
2021 is shaping up to be SEA's busiest deal year in recent times, with the US$11.5 billion (S$15.5 billion) deal value for the first half of the year on track to surpass 2020's full-year value of US$11.6 billion.
E-Commerce, food delivery, and digital financial services remain primary growth drivers.
In Singapore, the Internet economy is expected to grow by 35 per cent from US$11 billion last year to US$15 billion this year, with the potential to reach US$27 billion in 2025.
Singapore's Internet economy "demonstrates long-term resilience and has emerged stronger after a contraction in 2020". (The Straits Times)
New shifts in consumer behaviour and outstanding investor confidence in 2021, birth the new term "digital decade" and Singapore is in a good position to lead and map the growth pathways as a leader in digital innovation for the region.
The annual Southeast Asia economy report 2021 provides a look at what's in store for Southeast Asia in the year ahead, let's see what are some takeaways for marketers in Singapore in a glance.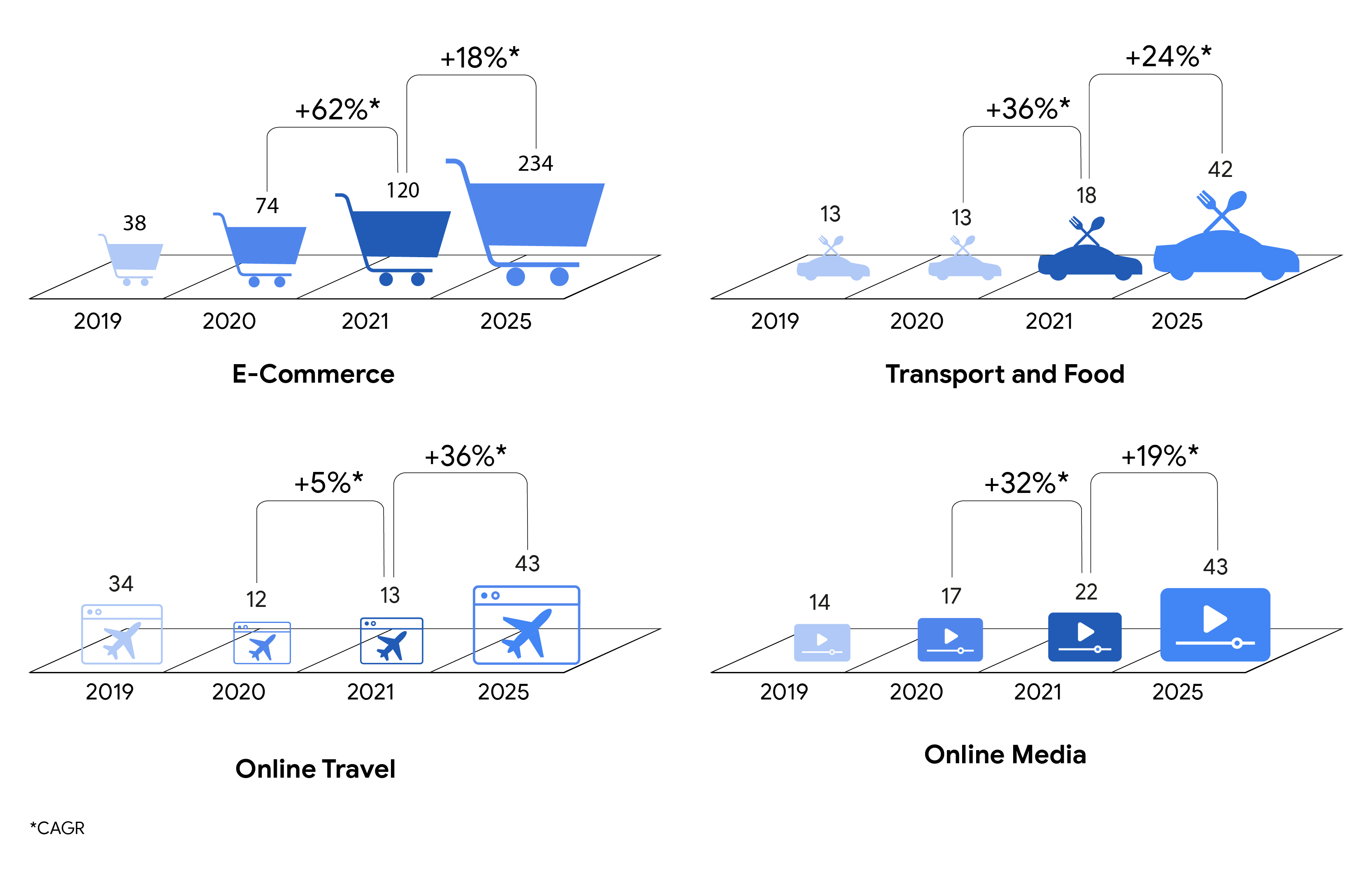 COVID-19 impacted businesses and users to digitalise on a phenomenal scale
1 in 3 digital merchants believe that they would not have survived COVID-19 if not for digital platforms.
If there were any residual doubts about the necessity of digital transformation to business continuation in the coming years, the coronavirus has silenced them. In a pandemic event, a contactless world, the vast majority of interactions with customers is online.
Not only has Southeast Asia continued to add new internet users in 2021, the number of digital consumers, or users who have paid for an online service, has also increased. Reports stated that 40 million new internet users have been found this year in 2021, bringing the region's internet penetration to 75%.
Additionally, 60 million people started using a digital service for the first time following the pandemic, and one-third of them only started doing so in 2021.
Businesses that had not only developed digital strategies but executed on them prior to the pandemic are now in a position to exceed and excel much further than their less nimble competitors.
Southeast Asia is a lucrative market for investors
Investments in the region's digital economy are expected to reach an all-time high this year.
The region's booming Internet economy is on track to exceed US$170 billion this year before more than doubling by 2025.
Increased deal activity and larger valuations led to the emergence of 11 new consumer tech unicorns in 2021, bringing the total number to 23. A number of these unicorns are looking to go public next year.
China's tech giants Tencent and Alibaba were among the first to support early e-commerce growth in Southeast Asia with investments in Sea Limited and Lazada, and have since expanded their footprint into other internet verticals.
(TechCrunch)
These statistical figures underscore the potential for startups in the digital economy to tap this for growth.
E-commerce and food delivery are main drivers of economy
E-commerce's gross merchandising value in Southeast Asia is forecasted to exceed USD 120 billion by the end of this year, surging by twice the amount from 2020's USD 62 billion.
Meanwhile, the food delivery sector also emerged as a critical factor for growth, increasing 33% year-on-year to reach US$12 billion by this year and projected to rise even more by 2025.
It has now become the most penetrated digital service, with 71% of all internet users ordering meals online at least once.
Southeast Asia's online food delivery spend is expected to grow more than two times faster than the total foodservice spend in the region over the next five years at a compound annual growth rate (CAGR) of 24.4% versus 12.1%. Growth is expected to be fastest in emerging markets such as Myanmar, Vietnam and the Philippines, with the total regional online food delivery Gross Merchandise Value (GMV) to more than triple from US$9 billion in 2020 to US$28 billion in 2025.
(Grab)
Healthtech and Edtech may turn into unicorns
As the COVID-19 pandemic forces businesses in Southeast Asia to adapt, two key industries in the region, healthcare and education continue to be booming sectors to watch.
Accelerated digital transformation due to COVID-19 and healthcare innovators breaking down barriers has led to a new wave of growth in the health care industry, where consumers are embracing conveneince and assesibility to healthcare services online. Venture Capital (VC) firms have also been seen showing increasing interest in backing healthtech startups in the region.
The rise of telemedicinal platforms such as GrabHealth, Malaysia's Doctor on Call, and Singapore-based Doctor Anywhere, health providers and patients could connect directly through virtual means, thereby addressing consumer needs amid the physical constraints.
(KrAsia)
Compared to just a mere few years ago, education was seen as a reserved venue for investors compared to other industries. However the pandemic has changed this and edtech merges to show healthy growth potential. While scalability remains unclear, the success of online education platforms now gaining traction and attracting more funding.
A new wave of digital merchants arise
The SEA Internet Economy report defined digital merchants as small business-to-consumer businesses, with less than 100 employees and operated with digital tools for online sales.
These merchants are for example, in food and beverages, consumer services, traditional retail, and e-commerce retail sectors.
The research found that 60% use digital tools to enhance operational and back-office productivity, while 90% accept digital payments.
In the next phases, digital lending services are likely to grow due to a demand for consumer financing options and supply chain financing. However it was expressed that while the positive impact of online platforms were great for digital business opportunities, long-term profitability remains a top concern.
Hence, merchants noted the necessity to ease these concerns, including more discounts and promotions, lower transaction fees for sellers, and better user interfaces to drive more sales. Online platform operators also should help better resolve issues with customers and provide sellers with more integrated services, such as logistics and payment processing. They point to the need to lower transaction fees, noting that costly digital platforms are the top barrier to adoption.
Singapore's digital economy continues to grow
The nation's Internet economy initially shrank by 24 per cent to US$9 billion (S$12.1 billion) in GMV as the online travel sector was affected by lockdowns and travel restrictions.
However, the internet economy in Singapore has seen a rebound in 2021 and is expected to grow by 35% from $11 billion in 2020 to $15 billion, with a forecasted potential to reach $27 billion in 2025.
Two-thirds of GMV growth is led by e-commerce.
Overall, Singapore has the highest proportion of digital consumers out of all internet users at 97%, as compared to the region's average of 80%. Its digital merchants are also more inclined to deepen usage of digital services.
Travel is Singapore is also showing early signs of recovery, with a 28% increase from $1.8 billion in 2020 to $2.3 billion in 2021, boosted by the gradual easing of restrictions such as Vaccinated Travel Lanes (VTLs).
Investor interest also recovered as the region's deal value reached $4.3 billion in the first half of 2021 due to the interest in SPACs and the government's focus on making Singapore the listing destination of choice.


Summary
As seen in the reportings, the continued growth of the internet economy has given rise to a new set of opportunities in Southeast Asia.
Singapore is well-positioned to be a role model for Southeast Asian countries in preparing its talent, SMEs and start-ups for the digital decade.
Businesses should work towards empowering their employees by investing in digital skills to help them adapt to the new normal and having them equipped to support local busineses tap onto digital opportunities in the region and nurture tech gurus.
Singapore is well positioned for long-term resilience being a digital regional hub for economy sectors such as fintech, and have tremendous headroom for growth in the digital decade ahead.
We continue to house the regional headquarters of e-commerce unicorns such as Lazada and Sea, which owns Shopee.
Employers should stay committed to skilling Singaporeans for the opportunities that lie ahead.