Digital marketers get all the heat these days.
Before and after every campaign, reporting statistics on the impact of your digital marketing strategy is part of the job. However, are you reporting the right ones, and determining the success of your campaign correctly?
With digital marketing having a competitive space post-pandemic, the pressure to get performance marketing right reaches a new high.
Setting the right KPIs and tracking the right metrics can help you demonstrate marketing's impact on a company's financial performance. As marketers, we need to only invest in trackable, data-informed decisions.
We found that just 23% of marketers are confident they're tracking the right KPIs so it's clearly an issue many marketers are facing.
Its important to learn how to measure your marketing performance effectively? We break down all of the key metrics you need to be tracking in your reports and how to get more data more easily.
One of the great things about performance marketing is its measurability.
Marketing teams can accurately evaluate key metrics to measure campaign success. They can optimise their strategy based on trackable, optimisable results.
Business owners with this important data can use the results to decide where to focus their marketing efforts.
A performance-based approach can help you assess your business performance by measuring results directly, rather than relying on indirect indicators such as impressions and clicks.
The most popular factors to consider when it comes to marketing performance measurement are:
Brand Awareness
Lead Generation
Customer Acquisition
Thought Leadership
Engagement
Customer Retention/Loyalty
Website Traffic
Lead Management/Nurturing
Sales
Repeat Clients and/or Website Visitors
How To Measure Performance Marketing And Leverage Tools To Get More Data
Web analytics
Before anything, you need to have access to your website's daily, weekly, and monthly analytics.
Your website's traffic—the number of visitors, the pages they look at, how long they stay on your site, and where they came from—is available to you every day, every week, and every month.
Here are some things that you should be looking at when analysing your website statistics:
Is there an increase or decrease in traffic from month to month? If yes, what is the cause of it? Was anything launched? Check your sources. What time of the day is the highest amount of traffic, and where is it coming from? How many new and repeat visitors are you gaining, are you working towards a conversion campaign? What are your most popular pages and worst ones, can you optimise them?
As data privacy concerns continue to grow, businesses will need to be more careful about how they collect and use data. They will also need to be transparent about their data practices.
Revenue
It's not unusual to have trouble linking your sales back to your marketing.
Don't worry—you're in good company. And it's easy to solve.
One of the firsts ways to measure your marketing performance is to look at the amount of revenue it's generated.
Revenue tracking allows you to hone in and measure more meaningful metrics such as CPA (cost per acquisition) and ROAS (return on ad spend).
With this information, you'll be able to see how much money your marketing activities are bringing in, allowing you to make more data-driven decisions about how to optimise your marketing spending for maximum results.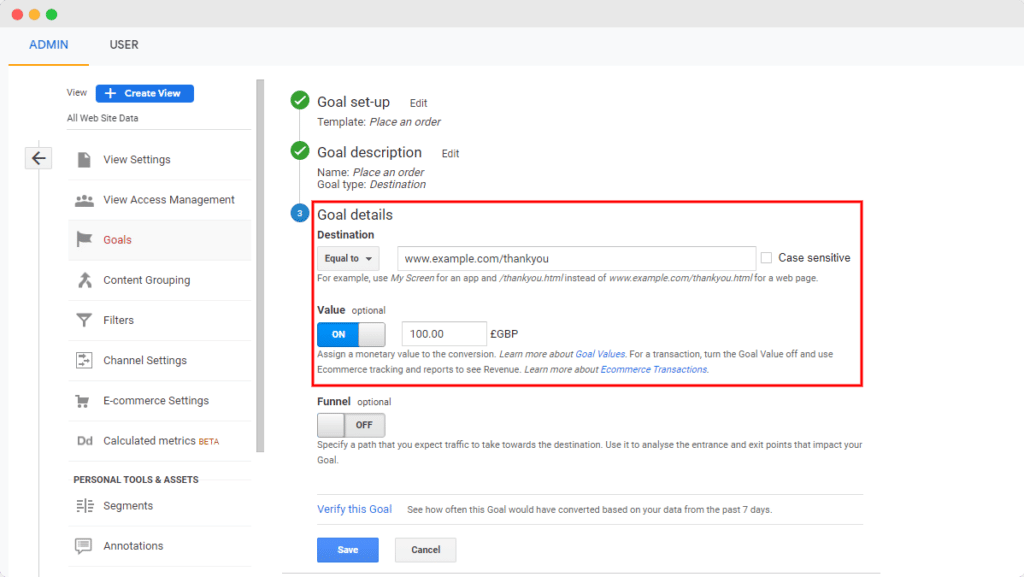 Quality of your lead
Before you can evaluate the success of your lead generation efforts, you need to decide what constitutes a "good" lead. There are many ways to define a lead—from MQLs to SQLs and everything in between.
Instead, here are three important questions to consider when qualifying your lead:
Visitors to leads: How many people who are visiting your website, do actually become a lead? If your web traffic numbers are high, but conversion rates are low, this is not good enough a result to report. Keeping track of visitors to lead will give you a sense of how well your marketing activities are driving the right kind of traffic.

Leads to opportunities: How many of your website's leads actually become sales-ready leads? This metric helps contextualize how well qualified your original leads are and ensures your definition of a "quality lead" holds up.
Time to conversion: A lead's quality isn't just about whether or not someone will become a customer—it also depends on how much time and effort it takes for a sales rep to move that lead through the sales cycle and make the conversion happen.
(leadfeeder)
Cost
Clients always want to justify the amount they spend on ads, and it's the most important metric marketers need to measure accurately and monitor seamlessly, especially if your marketing budget is limited.
Everyone wants to get the best bang out for their buck, and ad spending must be reported congruently. Having a data integration solution such as Hubspot, or even just Google Analytics is helpful, where such platforms can automatically collect and process data from all the platforms at once.
Here are a few common KPIs for marketing:
CAC (customer acquisition cost). The CAC is a measure of marketing effectiveness. It's calculated by dividing the total cost of acquiring new customers in a given period by the number of new customers acquired during that same period.
CLTV (customer lifetime value). The CLTV is the amount of money a customer spends with your brand over the course of his or her lifetime. It is calculated by multiplying an average purchase value by an average purchase frequency and then by an average customer tenure. Knowing your CLTV will help you determine how much you can spend on customer acquisition.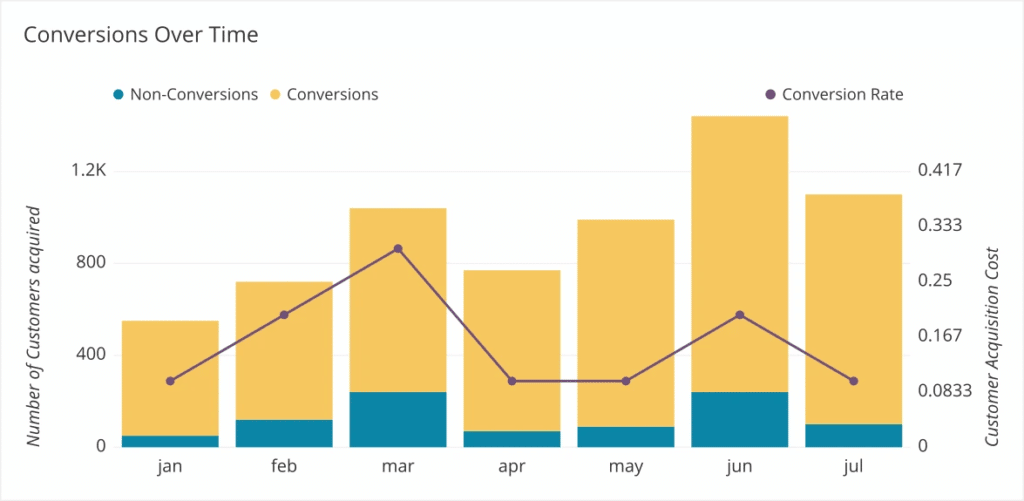 CPC (cost per conversion)
Another metric to be tracked consistently regarding cost is the cost per conversion. CPC is basically your ad spend divided by the number of conversions achieved. This metric can at a glance show you which campaigns are working and which ones are not converting at all-probably in need of some tweaking.

Some other formulas for daily marketing use:
Profit= Revenue- Spend
(CPC) Cost Per Conversion = Total Spend/ Number of Conversions
(CPE) Cost Per Engagement = Total Spend/ Total Measured Engagements
(CPM) Cost Per Thousand = (Total Spend/ Total Measured Impressions) * 1000
Ad Rank = Max CPC * Quality Score (Google Adwords)
Overall ROI
Once you've sorted metrics and measured the performance of individual segments of your marketing efforts or campaign, you'll definitely want to look at your overall ROI to see if you are successful.
Avinash Kaushik from Google suggests that you should see a traffic-to-sales conversion rate somewhere in the neighborhood of…
Search Traffic 40 – 50%
Referral Traffic 20%
Direct Traffic 20%
Online Marketing Campaigns 10%
A good marketing ROI is a 5:1 ratio is in the middle of the bell curve. A ratio over 5:1 is considered strong for most businesses, and a 10:1 ratio is exceptional. Achieving a ratio higher than the 10:1 ratio is possible, but it shouldn't be the expectation.
Social media analytics
Every social media platform's analytics should be monitored, if not your efforts are meaningless and directionless. Social media is an extremely important channel in the modern day, however, it is hard to track what ROI you directly get from your social media campaigns due to businesses' omnichannel nature. These are some stats we suggest you watch:
Overall weekly traffic
Posts with the highest reach
Posts with the highest engagement eg. likes, shares, comments
How many new followers, enquiries
Conclusion
Now, more than ever, businesses need to understand which marketing efforts are productive.
Performance marketing has the ability to pinpoint to a fault which areas are working or not, and where to pump more money in, or not. With this trackability, campaigns are sure to succeed as long as marketers are able to define metrics that matter to their campaign, and a close eye on real-time results then adjust budgets and tactics accordingly. Tracking multiple campaigns in real-time can be incredibly complex, but there are tools for it today.
If you want to see the data in action, then book a demo with our performance marketing agency team that's an expert in the Singapore market.