E-commerce entrepreneurs, what do you do when your shopping cart abandonment rate goes high?
How do you recover lost sales?
Online shoppers abandoned their carts because " they were just browsing".
Do you know tips and strategies so you can apply for shopping cart abandonment emails to capture missed revenue?
The modern online shopper is overwhelmed with options. You have to expect them to be fickle and undecided, they won't be committing to the first products they see. They now do window shopping online and will not check out if there is no urge or intent to buy.
Moreover, the multi-step checkout process allows them to maneuver with potential purchases, and gives them the liberty and options to conveniently save certain items down, while still being able to explore alternatives without any pressure.
How do we get ahead of this?
An experienced and savvy online merchant will know how to leverage a marketing automation strategy to target cart abandonment emails to trigger, and activate campaigns to convert these bottom of the funnel prospects into sales.
So, if you want to optimise the results you get from your cart abandonment email campaigns, you need to make them stand out from the noise. The typical ones won't work any longer, your prospects have been evolving, and so must you.
What is an Abandoned Cart Email and Why Is It Important?
Abandoned cart emails are follow-up email messages sent out to those visitors on your website who leave your website without purchasing the items in their online shopping cart.
We send out these emails with targeted strategies in mind so that we can recover the lost revenue that occurred as a result of our visitors leaving midway through checkout.
A staggering average of 69% of online carts are being abandoned by users. 45% of cart abandonment emails are opened; 21% of all are clicked on, while 50% of the users who clicked actually purchased.
On average, 79.17% of online shopping carts get abandoned before the customer finalizes their purchase. That's 8/10 of missed opportunities.
Abandoned cart emails work by tracking user actions on your site. The software records the products they browse, the items in their shopping carts, and their purchases.
Metrics To Measure Success For Your Cart Abandoned Emails
Having a specific number and view into how your email abandoned cart emails get converted into sales is great but insufficient.
Other email metrics that you should be looking at that can help you analyse your cart abandonment success rate are:
Change in average order value lost. How much are abandoned carts costing you, and how is your abandoned cart email strategy impacting that cost?
Click-through rates. How many abandoned cart emails are getting people to re-engage on the site, including those who re-engage and still don't complete a purchase?
Email capture rates. Your abandoned cart emails can lead to other important conversions, including having an individual supply their email address and opt-in to further engagement.
(benchmarkemail)
5 Cart Abandonment Strategies That Will Help You Close Sales & Win Back Customers
Be credible
In this age, the authenticity of a brand is paramount, due to the increased knowledge and empowerment buyers are equipped with. Moreover, the many scams on the internet have caused buyers to doubt the credibility of any purchase more than ever.
Consumers have become more prudent and first-time visitors to your website especially will need credibility before opening up their wallets.
Remind your customers that they are missing out highly-rated products in their shopping cart. Use attractive headlines to give ur open rate a boost.
Most abandoned cart emails that you encounter will contain a list of the products left behind in the cart. These emails include non-outstanding basics eg the product name, image, and price.
Get a step ahead by including the number of reviews along with the average rating, you can make your product and email stand out. Seeing something like "Rating: 4.9/5 (1000 Reviews)" will give you an instant dose of FOMO to complete that purchase ASAP.
Focus on the main selling points
Most abandoned cart emails would remind the customer of too many products, which overwhelms buyers and lessens the effect that your email will have. Imagine if you opened a cart abandonment email, would you be more convicted to buy 1 product or 10?
You're best served to add the main selling points for the listed products to their email, regardless what is their reason for dropping out. Seeing the main benefits clearly restated, for 1 or 2 products might just convince them that they were wrong to leave.
Really shine that spotlight on that product, the easiest way to do this is to select your best-selling and highest-rated product in the cart because it converted many of your past customers.
Instead of using generic copy that relates to your brand and the abandoned cart, you can communicate the unique selling propositions (USPs) of this product, add great copywriting headlines and images.
Include recent reviews of the product, the combination of your and your customers' own words will give your prospective customer the full spectrum of information to aid them in their purchasing decision.
Great copy and subject headlines
Most eCommerce site copy comes across as generic. You have basic product details, key features, customer reviews, warranty details, and relevant images. The persuasive burden for a given listing is placed on the visual presentation in combination with the innate appeal of the product, which means that two websites offering the same item will have very similar pages.
Allow some marketing heuristics. Show your customer service efforts.
Think of abandoned cart emails as a bonus marketing opportunity.
What are the ingredients for a good marketing email? An attention-grabbing subject line, great copy, and good images are all important. Abandoned cart emails should be personalized to the customer you're sending them to by including the items that were left in their cart and addressing them by name.
The CTA might be something like "Buy Now" or "Resume Your Order."
Your subject line should be interesting enough to get people to open the email. For example, using something like discounts, humor, or questions could intrigue the customer enough to click. If you wanted to include a promotional offer, your subject line could be something like "20% off all purchases."
Use reviews and testimonials to strengthen your branding and create FOMO (fear of missing out) among customers who abandoned their cart. For example, including reviews in your abandoned cart emails for specific products can tempt someone to purchase.
(Hubspot)
Offer a discount, get loyal customers
One of the most obvious and widely-used strategies to recover abandoned carts at the moment is to include a discount code, but because this is such an overused technique, many of our customers now expect this and they expect a great discount.
Regular discounting devalues your product in the long haul.
Discounts are especially counter-intuitive when it comes to your most loyal customers.
They have trusted your brand and have indicated a willingness to purchase from you regularly before; so you shouldn't have to sacrifice your profit margin with another discount.
The better way to do this is to leverage your loyalty & rewards program.
Alternatively you may want to introduce a "Buy Now, Pay Later" installment payment option eg. a partnership with Atome, in an effort to help lower your cart abandonment rate.
This is a great solution for consumers who lack access to credit cards or for those looking for a way to budget their income.
Get the right automation tools
Marketing automation cannot only retrieve those lost sales but also save your precious time and resources. Once set up, the whole process would run automatically, with no extra work, or extra money.
You need to remind shoppers about their abandoned cart several times after they leave. The concept here is simple: When someone adds an item to their cart but leaves your site without paying, you can trigger an email workflow that reminds them of their forgotten purchase and motivates them to complete the order by offering some incentive.
iMailCampaign's visualized campaign builder allows users to create multi-touch automated emails by segment, or send ad-hoc email blasts when you have relevant information to share with large groups.
Here's one suggested email marketing automation workflow for you:
Email 1: should go out within 3 hours after the customer abandons because those first few hours after abandonment are the golden chance to turn lost customers back to your site.
Email 2: 6 hours after abandonment is the right timing to send a second email just in case your customers didn't receive the first one.
Email 3: should go out within 12 hours after abandonment. If your customer still hasn't completed his order yet, give them the last sweet little treat. The third email is where you send him a discount code to encourage him to turn back and finish his purchase.
If possible, include these elements in your emails to increase the chance that customers will come back to your store and actually place orders:
All the items they picked on their shopping cart
Other alternative items that fit their need
Positive reviews from other customers who also bought these products
A strong call-to-action message to get them back to your site
(Beeketing)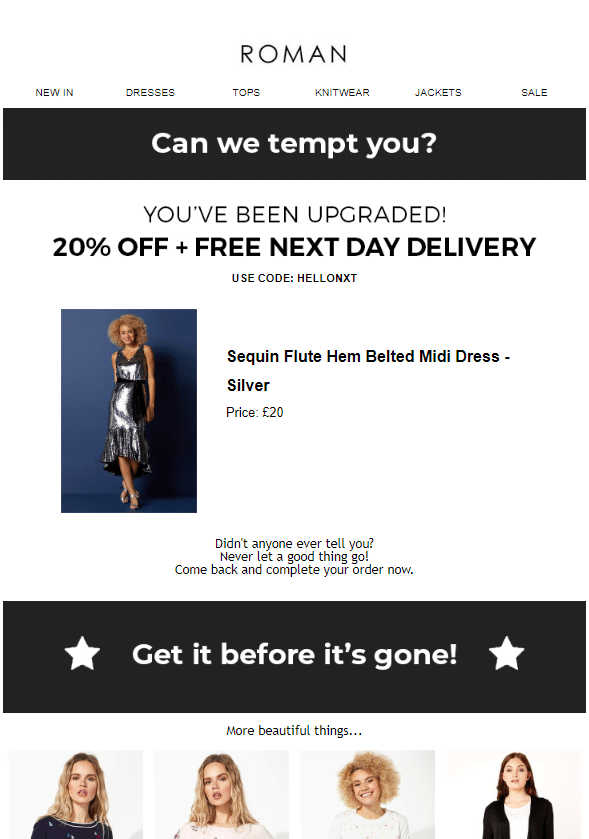 Conclusion
No matter how hard you try to kill the 70% cart abandonment rate statistic, there's no such thing as 0% abandonment on an eCommerce site.
Since many of prospective customers won't successfully complete their checkout, abandoned cart emails can be an incredible sales and marketing tool to help you sell more products.
To get started with having your cart abandonment reduction strategy in place, talk to one of our e-commerce experts today.
We'll have one of our conversion experts create a cart abandonment campaign for you. This campaign will be fully functional and personalised to your needs.