Wondering about the prospects of a digital marketing career after the COVID pandemic?
If there were any indecision about the necessity of digital transformation, the business closures during the pandemic have fortified a new cause. In a world of lockdowns and closed borders, the vast majority of interactions with customers and employees have taken place virtually.

Operating digitally has become essential.
The rising trend of digitising businesses has created the demand and need for digital professionals. Ones that are well-honed with blended skills in business and the art of digital marketing.
With us having to live in a new normal, post-pandemic, growth in digital marketing will continue to outpace traditional marketing, and we can also expect an uphill investment in digital advertising spending.
Digital dominates the marketing sector; according to Deloitte and the American Marketing Associations' annual CMO survey for 2020, digital marketing spend is expected to rise by 13 percent over the next year, while traditional will likely fall by 0.4 percent.
Bigger budgets, higher salaries, and a diversity of career options are just some of the benefits digital marketing professionals can look forward to this year and beyond.
The field today has exploded with opportunities for creative-minded digital professionals.

The number of roles for marketing professionals will grow by 8 percent between 2018 and 2028, significantly faster than the 5 percent average expected for all occupations.
(Bureau of Labor Statistics)
Additionally, as a digital marketer, unlike many other rather stagnated roles, your career can take shape in many ways and grow through many different paths.
The world is your oyster.
You can become a digital nomad any day and still rack in good money, work as a freelancer, start your own business, or work for your desired corporation in your desired industry.
Whatever path you decide you can be sure that your career will be a dynamic one, with rapid technological changes and ever-evolving commercial behaviors. New opportunities will always arise.
In sum, if you want an exciting job in a high-growth area, then a digital marketing job is for you.
Find out what a career in digital marketing is like, what skills you need, and if you have what it takes to excel in this high-powered field.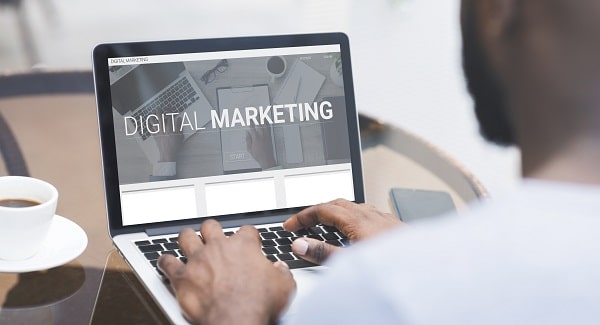 What types of digital marketing jobs are there today?
There is a wide range of digital marketing jobs out there meaning there are a huge variety of career options.
Video/audio production
Interactive technology (such as AI)
Mobile marketing
Search engine marketing (SEM)
Social media
E-commerce
Email marketing
Marketing automation
Content management and curation
Web development
Web design
Copywriting and editing
Analytics
Business/marketing strategy
(Digital marketing institute)
A successful digital marketer will possess a broad range of hard skills in the above and also soft skills analytics skills, strategic skills, decision-making, and collaborative skills.
The ultimate goal is increased sales for a business, using a myriad of digital marketing techniques and channels.
3 critical soft skills needed for a Digital Marketing Specialist role
Analytical Skills
Strong analytical skills and a data-driven approach to problem-solving are a must for this role. A Digital Marketing Specialist needs to adopt a methodical approach to optimise campaigns after analysing statistics across multiple channels. An analytical person would be able to provide the best recommendations and insights to develop creative marketing acquisition tactics.
Adaptation Skills
Look at the speed the internet evolves today! Digital marketers have to keep themselves relevant in the industry and able to formulate strategies and mindset that meets the demands of changing consumer behaviours and other market trends quickly.
In digital marketing agencies, it's not uncommon for employees to work across a variety of sectors, client accounts and even job roles.
Creativity
What's a marketer without creativity? Online competition is fierce, and great creativity is what makes the difference between your content being ignored and being clicked on. As consumers become increasingly sophisticated, playing it safe won't bring you effectiveness in business. As technology becomes more advanced, your approach to digital marketing strategy will need to be more creative if you want to yield results. Creativity becomes increasingly important for achieving success in digital marketing in the future.
Why Is Becoming a Digital Marketer A Sought After Role Today?
In-demand professional
Due to the recent COVID-19 pandemic, companies are responding to governmental efforts to support digitalisation and are joining the digital movement, taking their businesses online. As traditional brick-and-mortar stores transition to online spheres, more digital marketing jobs and opportunities will be created with new playing fields.
The digital marketing field will see growing demand.
According to LinkedIn, the "Digital Marketing Specialist" role is among the top 10 most in-demand jobs, with 860,000 job openings. The most requested experience in digital marketing includes social media, content strategy, SEO, analytics, and more.
You're gearing yourself up for a career where demand exceeds supply.
Plenty of career options
With new technologies being created at such a rapid pace, marketing channels and platforms similarly follow suit.
The flexible, versatile nature of the digital marketing industry allows you to have an agile career.
The nature of digital marketing is such a broad scope that you are able to specialise in one area and up-skill to another of your choice in areas that you are interested in. This flexibility and versatility are unheard of in other career paths.
While still being able to hone existing skills, the seamless collaboration of digital strategies allows you to learn new ones, exploding you to various career paths and ongoing learning opportunities, always.
Be exposed to working with businesses from every industry, meet new people everyday
Working in a dynamic sector with a range of industries means that you're able to meet and work with individuals from different backgrounds and different interests. This exposure will be great for future career growth.
People who love to socialise will find interesting collaborations with clients or colleagues from different disciplines. Those a little more on the introverted side can find ease working behind the scenes doing great campaign work.
Whatever your role, the sector guarantees a lack of boredom in your professional life!
Able to experiment with creativity
There are plenty of opportunities for marketers to exercise their creativity in their campaign tasks and run their own social experiments.
In such a dynamic environment, there will always be new a need for new ways to market products, solve problems, conducting campaign experiments, and engage with audiences fruitfully. This is a role where art meets science in the mos impactful and revolutionising ways.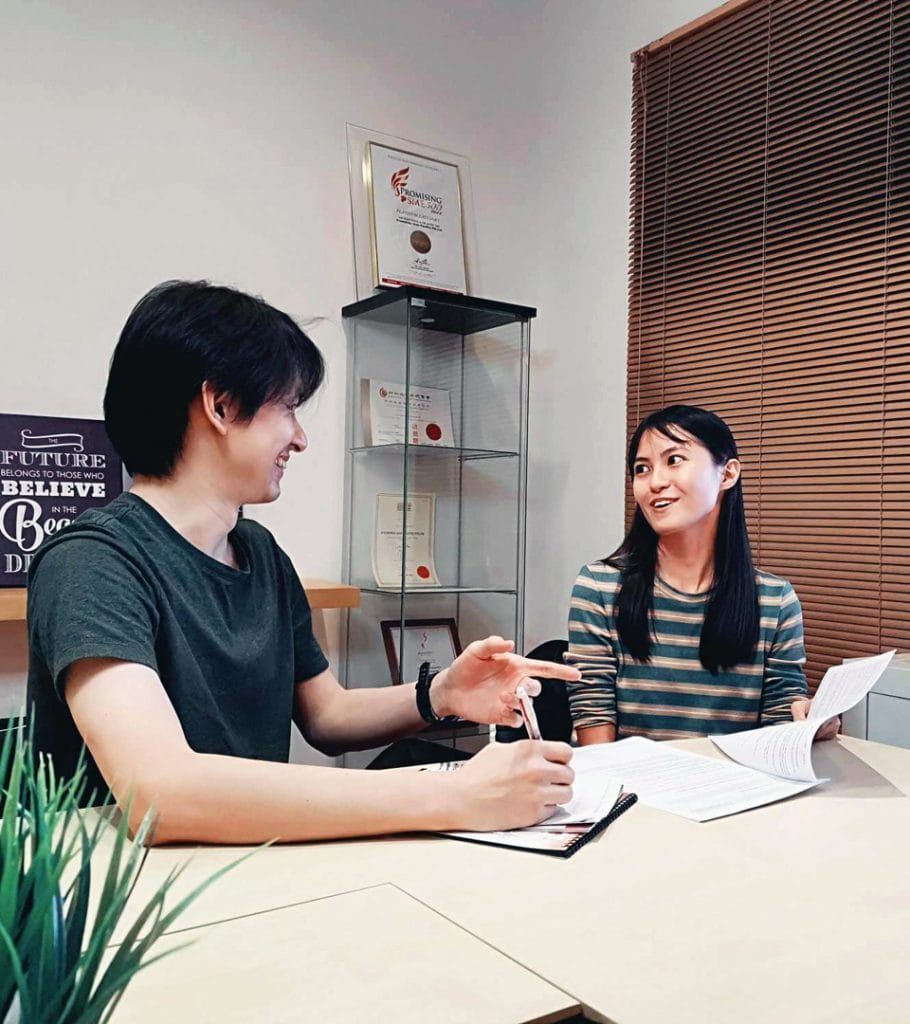 Choose A Career With iFoundries
Every day at iFoundries is a learning opportunity, for the new, for the better.
If you are looking to work in an informal, fun yet professional environment with a closely-knitted team instead of the usual corporate jungle, we might be the one for you. Share the same passion as ours and we want you to grow and succeed together with us!
Rachel, our Digital Project Executive shares about her journey from a recent traineeship to full-time employment at iFoundries.
" I graduated during the COVID-19 period and thus job hunting was not easy as it was a very tough period to adapt to and the economy was not doing very well. Upon hearing about the government initiative to help fresh graduates find jobs, I decided to turn to the SGUnited Traineeship portal to search for a job.
Even though there were some offers here and there but I think the main reason why I chose iFoundries out of the other offers was that I wanted to learn as much as I could during my traineeship, I wanted to be independent and to be pushed to my greatest potential
iFoundries was able to provide me with this platform to grow in the way I wanted to as it is a small agency. Thus, naturally, it is a fast-paced environment and there is a lot of time when you will have to be independent and proactive when it comes to learning new things.
Moreover, I wanted something to do with the IT industry as I thought that with the current situation, digitalisation is important, and as I am blessed with very helpful and friendly colleagues who never fail to go out of their way to provide me with the help I need.
Especially since they know that I am not trained in this area. I was also given a lot of opportunities to lead my own projects and that helped me get used to the expectations of the job role and gave me more hands-on training which I thought was very helpful for me as I am someone who learns better when I actually carry out the action itself.
I decided to join iFoundries in a full-time role after your traineeship period ended because firstly, the environment played an important part. Everyone in iFoundries is so friendly and open that it truly feels so comfortable to work here. It feels like a little family which I like. Secondly, I still feel that there is a lot for me to learn and to grow in my current environment and position. Lastly, I think being in iFoundries also gives me an opportunity to be pushed to my greatest potential due to the demands of the job and thus it prepares me for anything in the future. "
Explore our available job openings and we're looking forward to hearing from you!