If you're an SME trying to market your business in 2020, you can't afford to ignore the process of setting goals on social media.
If you're overwhelmed or don't know where to start, you're definitely not alone.
Because social media isn't as straightforward as it used to be and there are tons of new developments that are catered for business growth.
Many business owners initially decided they can handle social media marketing on their own, well you can to a certain extent but we think it's a little more complicated than that.
The hardest part is coming up with an overall social media strategy. From creating social profiles to choosing the right channels, formulating an epic content strategy, ad targeting, and using data for campaign optimisation, you got to be sure that you're tapping on every opportunity.
In this blog post, we bring you a guide to planning your social media goals, choosing social media strategies, and how to achieve profitable success with them.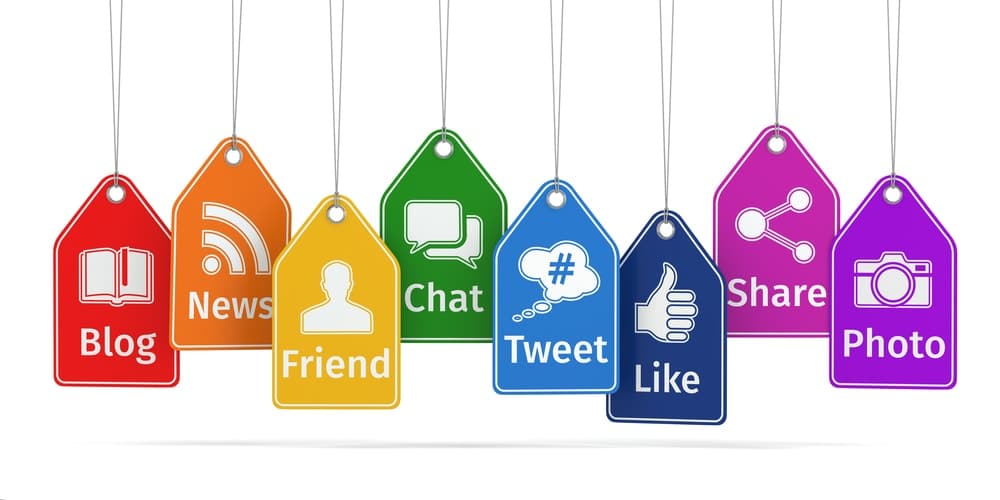 Why specific goal-setting is an absolute must-do for marketers
Goals keep you on track
Without setting goals, how would we know if we're on the path of success or failure? How do we even measure ROI to justify all our efforts and money? Some may argue that social media channels are hard to invest in because of the difficulty to keep track of the returns. We beg to differ, by defining goals, you will be able to track and evaluate specific steps leading up to a succeeding or failing campaign. How can we ensure we're getting as much value as possible from the time and resources we put into social media?
Goals give you insight on how much and what to invest in
Every struggled coming up with a budget for your social media campaigns? How much is too much and where is lucrative to pump money in, and for which channels?
Your overall digital marketing goals should play a factor in determining how much gets allocated to social media spending. Outlining your goals and an action plan is key to figuring out what you need to spend to see results.
Goals ensure that you focus on data
This goes without saying, marketers should take a data-driven approach to social media. No matter what platform is your main focus, a data-driven approach to social media can translate your valuable time into actual results.
What Social Media Goals Should I be Setting For My SME?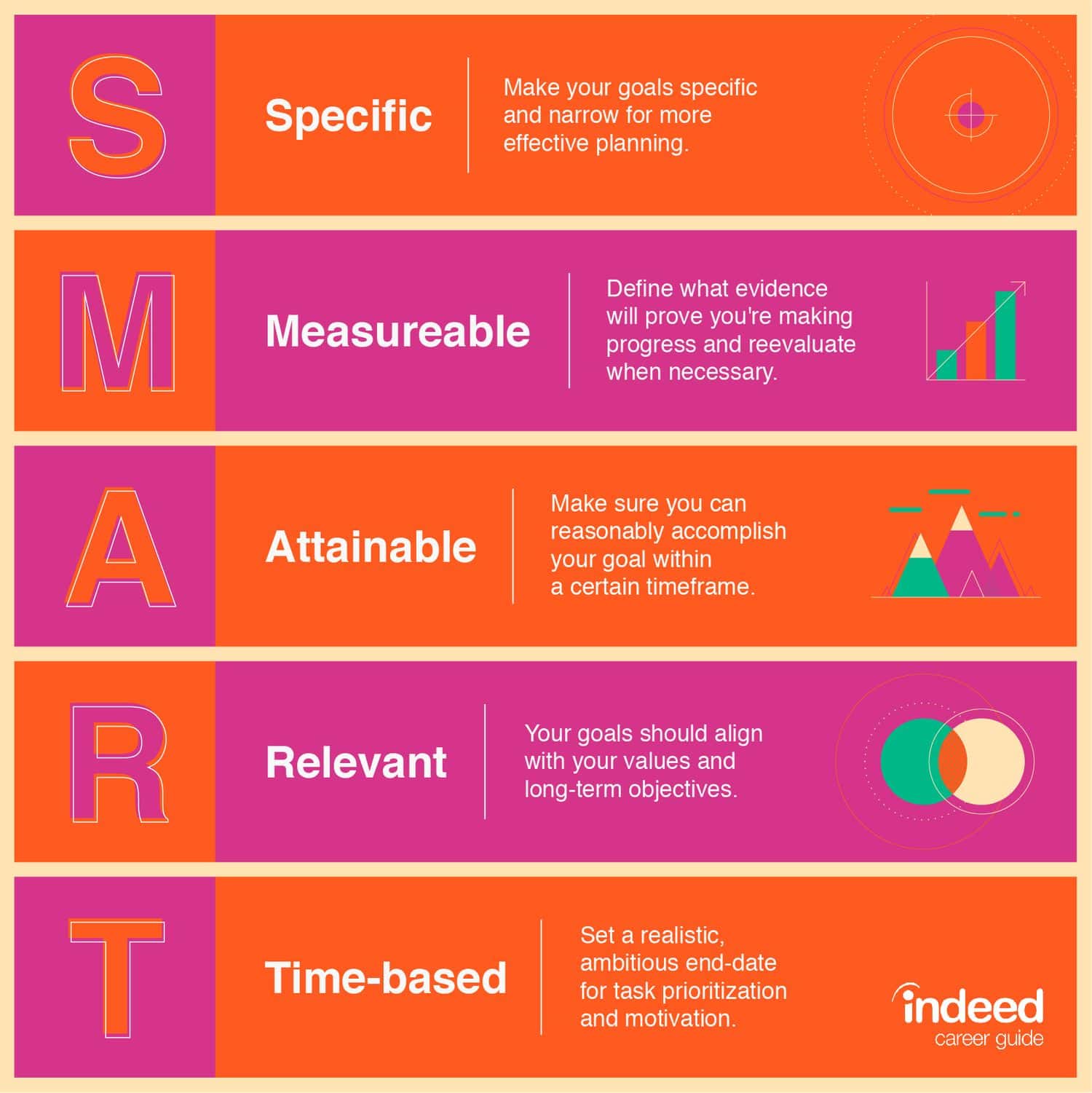 1. Use the S.M.A.R.T. Goal Framework
You can define your social media goals, strategies, objectives, and tactics with the S.M.A.R.T. framework.
Specific (the more specific your goal, the more you will be able to hone in on it)
Measurable (use numbers to quantify goals)
Attainable (set goals that are within reach)
Relevant (your goals should be relevant to your business' success)
Timely (goals should be time-sensitive Here's what to consider for each part of this acronym in relevance to social media goals.
Specific: Is your goal well-defined? If you need help with this, try asking yourself the "who, what, when, where, and how's" of achieving your goal.
Measurable: What can you measure to know that you are reaching your goal? What are the key metrics that you can look to? It will be good to come up with actual numbers and percentages, eg. boost engagement by 40% or reach 5000 followers by the end of a 3-month awareness campaign.
Attainable: Can this goal be achieved? Is it realistic? While being enthusiastic about achieving a goal by high margins might sound good if it's unrealistic the entire campaign will fail and it will be hard to optimise thereafter. Look back and reference past goals and do a reverse calculation, assess whether your present ones can be reached.
Relevant: Is this goal relevant to what your company is trying to achieve? Will it actually help your business grow? Does it resonate with who you are as a brand?
Timely: When can this goal be reached by?
2. Grow your brand's audience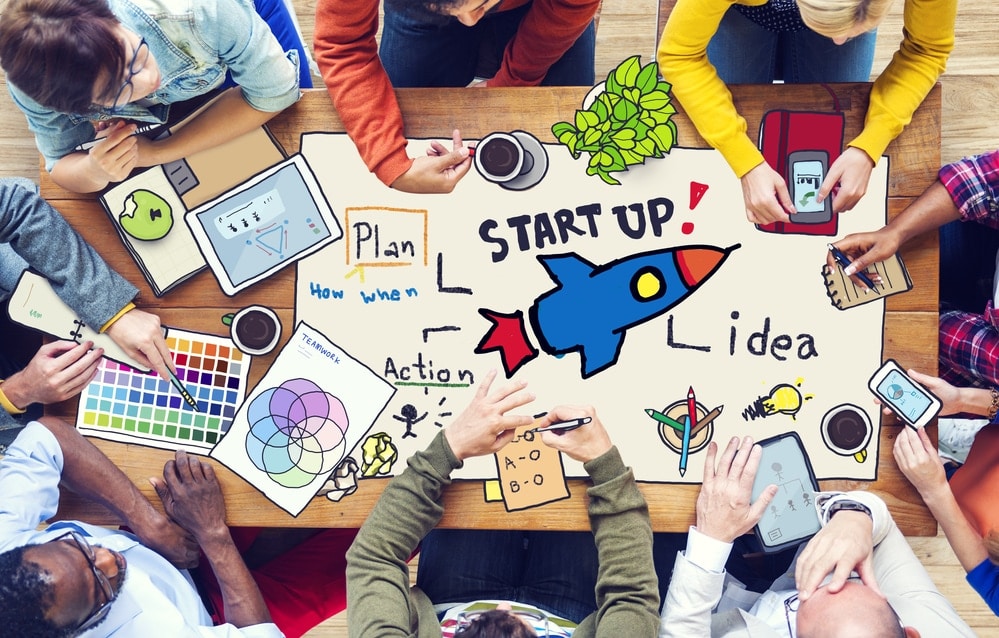 Raising brand awareness is one of the most common goals among today's brands, and social media is known to be a great way to bring results.
Displaying your business' personality through social media is one of the best ways to connect with your target audience, making a lasting impression.
Your social media channels are expanded opportunities to present your business' ideas, content, and service.
Here are some questions to consider when setting your brand awareness goals:
Are followers regularly engaging with your content?
How do I build a community of consistent and loyal followers who will act as advocates?
How do I get people to share my content? What do I need to post in order for people to find it worthy to share?
What sort of content reflects my brand yet at the same time engages with the public?
Social media marketing acts as a voice for your brand. It's an essential way for companies to reach consumers, and when done correctly, tells those consumers that their brand is engaging and truly cares about its consumers.
Useful Social Media Metrics:
Follower count
Range of social media posts (how many people they are reaching per day/month/year)
Number of mentions/shares/retweets/customer posts on your page
Amount of customer "Likes"
Amount of link clicks per post
Website analytics for social media referrals
mentions (via social listening), followers, the share of voice, engagement rate, followers
Whether you're bouncing between multiple networks or are laser-focused on a single platform, growing your audience is non-negotiable.
 top-performing content, optimal publishing frequency, and running campaigns that attract new followers to your account (think: contests, influencer campaigns).
3. Generate leads and sales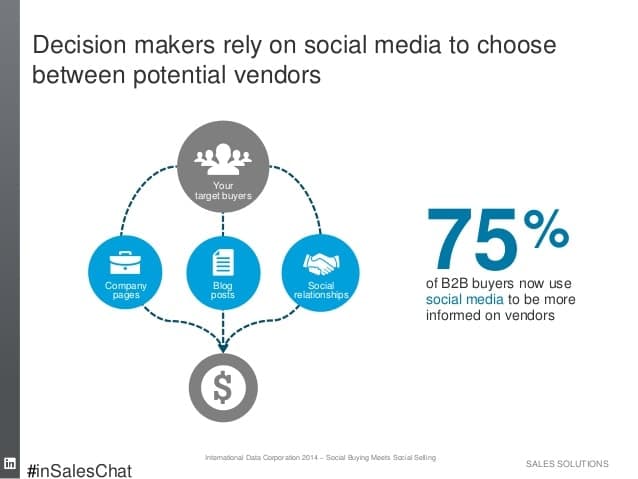 Of course, every client that we have ever worked with are most concerned about this goal. Hence while planning you have to set it right.
Generating leads and sales means translating your social media presence into actual revenue. There are a few ways you can monetise your social media profiles. This can be done directly through social ads and there are strategical ways to achieve that most efficiently.
Every post, ad, follower, blog post, and email is an opportunity for customers to convert. Social media is a compulsory tool in any buyer's journey for gaining new leads and moving people through your sales funnel regardless of the industry of business you are in.
Most of your social media audience consists of people who haven't purchased from you and they are at the top of the funnel. What content you put out will affect if you are able to move your prospects down the funnel, you need to get them to act.
That being said, you need to remember to know who you are marketing to and to make sure that your social media brand image and presence is both interesting and relevant to your audience so that they have a reason to click through.
Useful Social Media Metrics:
conversion rate
click-through rate
bounce rate
social media conversion rate
cost-per-click (ads)
CPM (ads)
4. Know what your competitors are doing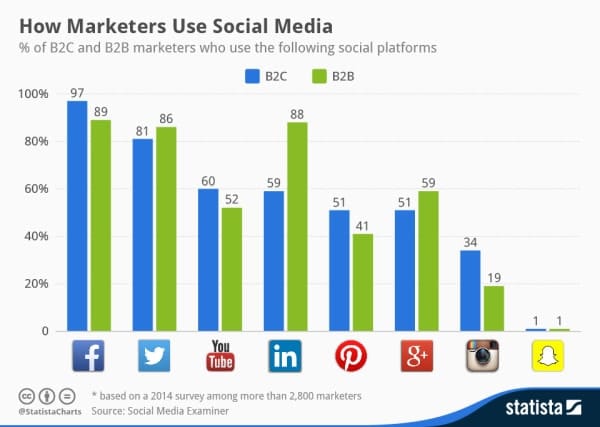 If you're a startup, here's good news. You do not have to start from scratch with social media advertising. Chances are, you can gain a good understanding simply by reviewing your competitor's social content strategy.
Your first step in creating a competitive social media strategy is identifying your competitors. You need to shortlist businesses similar to yours, but not limit your analysis to competitors of a specific size.
For example, if you are an F&B company, you will want to include a mix of F&B companies of your size and larger ones that offer similar services and food types in your competitive analysis. Large or small, in the online sphere you are competing for the same audiences. This is one of the perks of advertising online, you get to play with the big boys on an equal playing field. This is your chance to level with them and snatch some customers over.
While you will derive a lot of valuable information in your initial competitor research, you will want to make sure you are monitoring them on a regular basis to see if they are changing their strategies. A social media analysis of the competition can give you valuable insights into what works in your industry, some areas you might need to improve, and much more.
Do searches of the competition's company name, account handles, and other relevant keywords on social media. Find out what they're sharing and what other people are saying about them.
Conclusion
Remember that goals, priorities, and expectations vary from platform to platform.
However, with social media advertising, you can have consistent sales coming in according to how you plan your campaign.
Below are some of the most popular social platforms, that individually provide different advanced tactics to kick start or scale up your marketing campaign. You can also approach experts for multi-channel advertising that will guarantee you success in your goals with trackable ROI.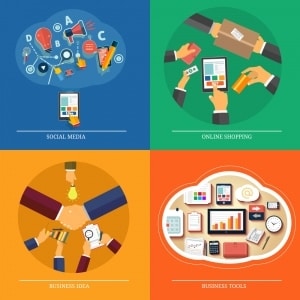 Facebook
If your business wants to run advertising that targets hyper-specific users, look no further. With social media's largest user-base and most robust ad-targeting platform, Facebook is the gold standard for paid ads for local businesses and eCommerce giants alike. (Sproutsocial)
When it comes to eCommerce, Facebook excels at lead generation. If you want email addresses, Facebook is the place to go, with many advertisers reporting costs below $1 per lead. The most common model used is to run a Facebook ad directly into a high-converting landing page offering some variety of a free lead magnet or bundle product.
(Bigcommerce)
LinkedIn
If you're a B2B brand, LinkedIn will definitely have to be one of your go-to platforms.
This platform is known as the primary social networking platform for professionals. You can use LinkedIn to update customers on your business, connect with industry partners, and recruit new team members. As a professional network, it is the top choice for B2B social media marketing. According to Forbes, "LinkedIn is one of the best platforms for generating leads and now makes up 46 percent of the social media traffic generated to company websites for B2B firms."
(Searchinfuence)
Instagram
If your business is selling a "visual" product (think: retail, hospitality, travel), Instagram is your bread and butter. Countless brands have managed to engage their communities through eye-popping photos, Stories and compelling visual ads.
Owned by Facebook, Instagram boasts more than 1 billion monthly active users and has the same advertising options as Facebook. First and foremost, it's a visual platform, which provides you with an opportunity to showcase your business's personality. There are a number of free tools you can use to improve your audience's creative experience.
(Sproutsocial)
YouTube
YouTube allows your business to post and share an unlimited amount of video content, which you can then share on social media, send via email, or embed on your website. As a product of Google, there is also an added SEO benefit of having a YouTube channel and producing video content on the platform. With more than 1.8 billion active monthly users worldwide, YouTube has essentially become the second largest search engine behind Google. When it comes to paid advertising on YouTube, it takes the lead over Facebook for video. Facebook charges your account for each 10-second view, while YouTube does not charge you until a user has consumed at least 30 seconds of an ad.
(Searchinfluence)
We want to hear from you. What do you consider to be your most important social media goals? Any goals that you're still struggling with?
Let us know here. We can help you formulate a social media strategy specific to your business!